Polymer clay and chicken egg come together in this slightly silly bird looking out of an egg (made with marble clay and a spiral cane) with a chunk taken out (lying beside it).
There is an odd "pain" to my creating objects, since I get an idea and then am pretty driven to try it out, but in the process I get impatient and dont completely sand them or finish them to perfection. Wish I were different in that respect, but then if i were, then multitudes of lesser quality experiments would never happen. It is tough to stand on that fulcrum.  It is possible to see some of the spiral canes (on the inside of the egg, making a "shadow eye"  –being somewhat transparent with the light coming from outside the egg. None of my spiral cane inserts show up on this view.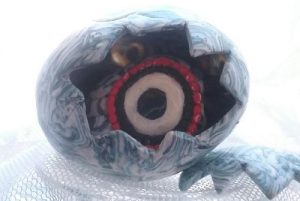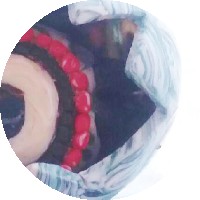 The circular pix is so you can see the beak that belongs on that bird head… ha ha.