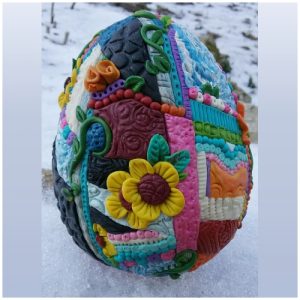 Decorating eggs is a big thing for me, ever since i was old enough to hold a pen or paintbrush. 77 years later, the minute christmas is over i move on to eggs.
This particular decorated egg can be made custom with your flower petals, or pet fur, bird feathers, pine cones, glitter, confetti, paper announcements, just about whatever you can think of can be embedded in the flowers and dimensional patterns in a keepsake memorial egg like this. You just contact me with your wishes and I will try to invent the solution.
This egg is over 4 inches tall, close to 5, and is made on a core egg that is hollow.