Getting flowers to maintain their color, shape and depth during the drying and/or dehydrating requires patience and special equipment (thats what the commercial businesses use). I just grabbed some of the common weeds from my own yard and my neighbors yards along the parkway and flattened them between pieces of paper towel and pressed them until dry under stacks of books.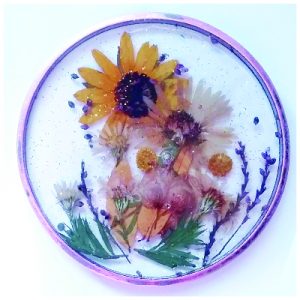 This particular item was made with a left over and unwanted ring bracelet, kind of a brass color, that I could not figure out anything else to do with. I used packing tape to seal the back side, and poured just a thin layer of resin.
The plants i had dried I used some of that resin (before it cured) to just lightly coat the tops and bottoms of the flattened flowers, and when that cured, I organized them within the ring.  I poured one thin coat of resin and let that cure. BTW I also added some "seeds" from some of the weeds.
The next step was to remove the packing tape from the bottom, sand off the bumps and flatten as best i could, and then repour the final back-side coat of resin and let it cure.
The last step was to pour the top side…. before that coat I also sanded off the areas that stuck above the top rim before i poured the resin. I added a tiny bit of gold glitter to the last pour on the top.
It is kind of fun, but the flowers would be prettier if the colors had stayed.
FYI this is NOT an egg, though it is posted under the "egg" cateory.