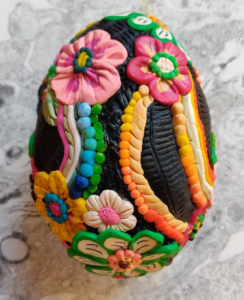 The base of this decorated egg was made by creating a fabric-mache covering for a leg's egg (yep, i still have some of those old things). I did this by using stretchy fabric and wood glue in much the same way as one would use paper and glue to make a paper mache shape.  I cut with a blade the finished covered egg down the "half" line (circumferentially where the leg's egg has its opening) and opened the egg and removed the plastic.  I cant remember whether i covered that plastic egg first with a thin  wrap of plastic wrap.  I would only have done that to make removing the leg's egg more easily as i wasn't interested in putting the leg's egg  in the oven to melt when i cured my polymer clay.
After removing the leg's egg i wrapped the mache egg with more fabric and wood glue to seal the two halves back together and to strengthen it.
After it dried i did poke a small hole in the bottom so the air would escape during curing of plastic, then just began to add flowers. The height of the egg is just over 4.5 inches.
Some sculpted flowers on the egg are "memorial flowers" in that the polymer clay contains flower petals from a funeral arrangement – a nice way to keep the thoughts of those loved and gone around.  I can customize this type of decorated egg with your wedding or funeral or birthday or anniversary flowers if you contact me through the Memory-beads website.
The "track-like" texture on the black restful places is made with the lid of a peanut butter jar, rolling the side of it over the clay. All other decorations made with polymer clay are pretty routine, nothing fancy, just entertainment for me.  You can purchase this egg HERE, or from the woo commerce widget on the side of the page. I know 60$ seems like a lot of money but it took me many more than six hours, and shipping (which i include) would otherwise be $10.